Pascal's Triangle read to a prime modulus leads to some standard fractal objects such as the Sierpinski gasket. Doug and Tiya produced the following picture of the Pascal triangle mod 2 using Matlab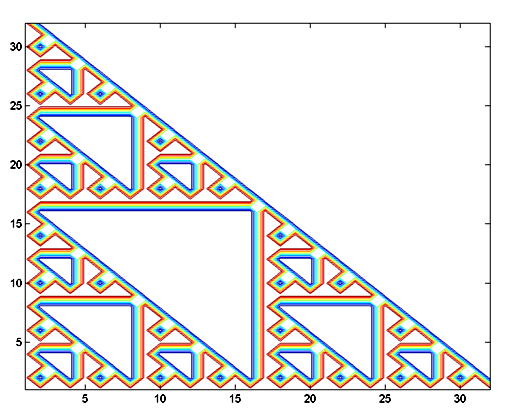 for their paper entitled
The Modular Pascal's Triangle
. In addition to exploring ideas in the literature, they investigated Pascal's Triangle modulo a composite number, investigating the appropriate tile size to reproduce patterns. There are many questions coming out of this project, which would be fertile ground for projects in future years.
Eric Blabac is a 2003 graduate of ISU and is currently a graduate student in mathematics at ISU.
Lonnie Colbert is a student at Jackson State University
This project was entitled
Iterating Analytic Self-Maps of Discs and Applications to Dynamical Systems
. It was based on a paper by Robert Burkel in the
Monthly
. The main idea behind the paper was to use the notion of conjugacy of dynamical systems to convert the not so transparent situation with Mobius maps on the unit disc to a very simple system in the upper half plane. The Mobius maps are classified as elliptic, parabolic, or hyperbolic, and the results in each case are different. The students also wrote a program in Matlab to model the results, and see if they agreed with the theory. There are several aspects of the project that were
not investigated, such as sensitivity near the fixed points, that would be viable projects for summer 2004.